Published 10/22/2013
In early February last year, Wang Lijun, the police chief of the Chinese megacity Chongqing, drove 200 miles through the night to seek refuge in the U.S. Consulate in Chengdu, the capital of neighboring Sichuan Province. Wang's escape was part of a shadowy intrigue that became a sensational public scandal involving murder, money, power, adultery, fist fights, car chases, and disguises. It triggered tension between two Chinese provinces, nearly pulling the United States into the middle of a Chinese domestic political crisis, and, ultimately, led to the downfall of Bo Xilai, the former Chongqing party chief, now a fallen star who just last month was sentenced to life in prison.
For 18 months the world was riveted by this story in all its sensational and gory details, but few took notice of one of its more anomalous features. The municipality of Chongqing—which has the standing of a province—is China's largest city, home to 30 million people. That is roughly the population of Canada, packed into an inland territory roughly the size of South Carolina. If it were a country, Chongqing would be the 41st largest in the world. That means there would be over 150 countries that are smaller; yet almost all of those countries have U.S. embassies in their capitals, and many have additional U.S. consulates in other cities. Chongqing hosts dozens of American businesses and exports about $7 billion a year. Yet it has no U.S. diplomatic representation. That was why Wang Lijun had to drive over three hours from China's largest city to find an American diplomat.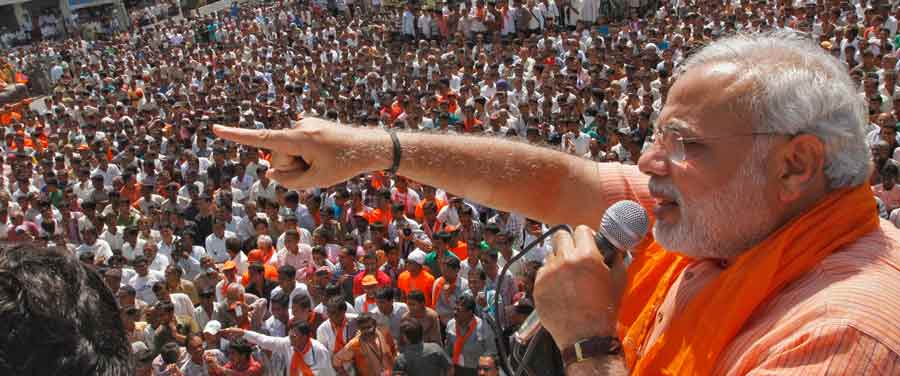 Above: China's megacity Chongqing, population 30 million, sits at the confluence of the Jialing and Yangtze Rivers.

Wikimedia Commons / Oliver Ren



Below: Narendra Modi, Gujarat's chief minister, addresses supporters in Dokar village during an election campaign rally in 2012.

Reuters / Amit Dave
Flash to the other side of the Himalayas—around 2,000 miles from Chongqing—to the Indian state of Gujarat, where Narendra Modi is chief minister (equivalent to governor). His star still rising after ten years in power, Modi has helped Gujarat become India's leader in manufacturing and exports. Domestic and foreign corporations have flocked to Gujarat because of the business-friendly environment Modi cultivated. In early September, he was designated by the BJP (Bharatiya Janata Party), the main opposition party to the Congress Party-led current government, to be its candidate for prime minister in next year's parliamentary elections.
Modi has his detractors, however, and has had his American visa revoked, thanks to a provision in U.S. law that bars any foreign government official who "directly carried out, at any time, particularly severe violations of religious freedom." This is a result of the fact that Modi has been blamed by many—though never charged—for promoting Hindu-on-Muslim violence that erupted in Gujarat in 2002. The riots killed over a thousand, three out of four being Muslim. If the State Department were to revoke the ban, and Modi sought to visit the United States, the nearest American consulate would be 300 miles away, in Mumbai, the capital of the neighboring state of Maharashtra.
...local leaders are increasingly running much of India and China, home to a third of all humanity, from the bottom up. ... which means that these countries need to be understood from the inside out.
Yet Modi presides over 60 million Gujaratis. If Gujarat were a separate country, it would be the 23rd largest in the world, slightly smaller than France, where the U.S. has seven consulates in addition to its embassy in Paris. And Gujarat's exports—$61 billion in 2011—would put it in the top 50 countries in the world.
Bo Xilai and Narendra Modi are but two of the many prominent figures in the 60-some provinces, states, territories, and other major administrative units that make up China and India. For a sense of how many people are involved, take the United States and add Mexico, Brazil, plus the rest of North America and South America, then add the 500 million people living in the European Union. That adds up to roughly the 1.3 billion people who live in China alone. India is only slightly smaller, with 1.24 billion.
While Bo and Modi have governed districts the size of major nations, they are cut off from western centers of power. Bo and Modi gained international reputations, which makes them the exception, since most outsiders tend to follow only those politicians based in Beijing and New Delhi. Reporting from capitals and scattered consulates is important, but it gives us partial and often distorted glimpses of what is going on in the rest of China and India.